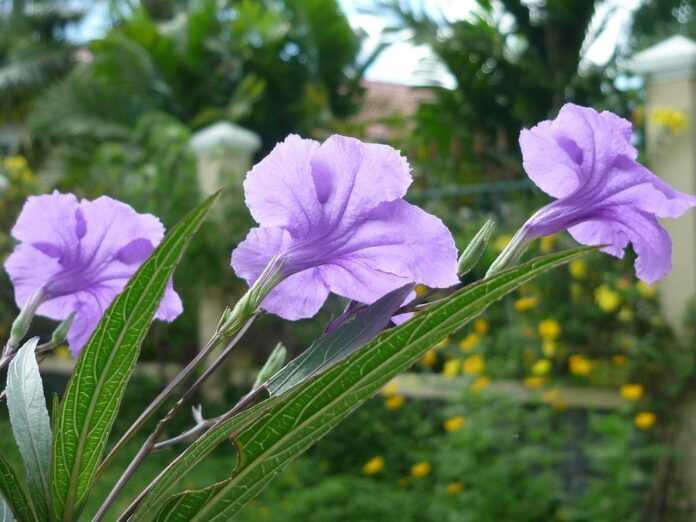 Mexican Petunia name looks like they belong to petunia varieties but they are not actually petunia. It is a drought-tolerant plant and loves to grow in full sunlight. It's an evergreen perennial flowering shrub that blooms in the summer and spring seasons. The purple flower, dark green leaves, and dark brown-green stem make this plant more attractive.
Mexican Petunia / Purple shower Information:
Native: Mexico
Family: Acanthaceae
Type: Evergreen perennial flowering shrub
Common Name:
Purple shower
Ruellia simplex
Mexican bluebell
Ruellia brittonniana
Height:
Dwarf plant 8-12 inch
Tall plant -18-36 inch
Growth: Fast growth plant and hardy to kill
Flower:
Color -Purple, Violet, Pink, White
Blooming time- Summer, Spring
Attracts: Humming birds, Butterflies
Maintenance: low care required, easy to grow
Also Read: How to Grow and Care Blue Porter Weed | Stachytarpheta Jamaicensis
How to Grow and care Mexican Petunia?
Soil:
Mexican Petunia is an evergreen shrub and very easy to grown plant which required less care. In winter season plant they didn't bloom but they survived. Mexican Petunia can survive in any type of soil but soil is well drainage and should be moist.
Water:
This plant is drought tolerant plant but wet can't affect much. They can easily survive in wet soil. In winter season plant doesn't required much water.
Light and Temperature:
Mexican Petunia love to grow in full sunlight but does well in shady area. In sunlight they bloom more. In summer season they grow well and can tolerate drought but they need more care in winter season because it can frost and leaves start dropping.
Pruning:
Pruning requires maintaining the shape and size plant. As this is invasive plant so time to time it required pruning so it will control the growth of plant. Remove brown or yellow leaves when doing pruning.
Repotting:
This plant can grow in pot as well as on ground for make ground cover or wall cover. If you grow in pot keep pot in sunny area to bloom more. It's a fast growing shrub so they need frequent repotting. Early summer is best time for repotting. In early season plant gets perfect condition to establish. Keep in shady area to grow and make water moist till it fully established.
How to Propagate Mexican Petunia?
Propagation of Mexican petunia is a easy task. this plant easily grow in their own way like seeds spreads but if you want to grow this plant by yourself you can use these method to grow more Mexican petunia.
1) By Seeds:
The plant is self spread seed. Seeds can spread even far away from the plant. If you want to plant by yourself, you can collect seeds from the plant after blooming. First dry the seeds once it becomes dry keep in potting soil and cover it after few days it will germinate. Once it becomes small plant transfer into a bigger container.
2) By Cutting:
By cutting stem is also an easy way to propagate this plant. Cut a stem and remove buds and lower leaves and dig in potting soil and keep this pot in shady area and water it till it established.
3) Division:
Division is another way to propagate this plant. On the bottom side there are so many baby plant grown. Divide that baby plant from the mother plant and plant in another container. Keep this container or pot in a shady area and water it once it established.
Uses:
It's an Ornamental plant and it can enhance your Garden Borders or wall cover. Plant it with others plant like lantana, it will give a contrast look in your garden.
Mexican Petunia Disease:
This plant is an invasive plant and in few places (states) it restricted to grow. It is disease and pest free but normally found Spider mites.
Also Read: How to Grow Silver falls or Dichondra Argentea Plant