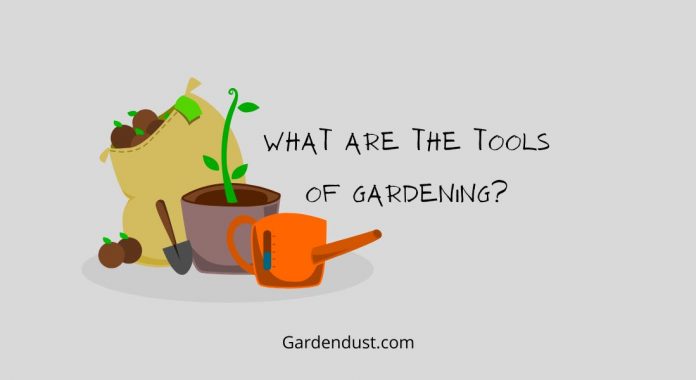 Whether you are new to gardening or not, one thing is certain you feel good among plants and find it exciting to spend time there. While working in gardening, you should keep some gardening tools handy and your hands safe. What are the tools of gardening? And what is the use in the garden? The list of special tools used in gardening is as follows:
What are the tools of gardening?
1. Hand Gloves
You must have hand gloves to keep your hands safe and clean from dirt. There are many types and ranges of gloves available in the market, but we should choose durable and good-quality gloves that do not deteriorate quickly. Buy gloves that are waterproof and fit the hand well. Gardening gloves are very important for hand protection
2. Gardening Rake
A claw-like rake is used to rake the grass and thatch while cleaning the lawn or yard. It is a lot of work to clean up the garden.
3. Hand pruner
An essential tool for gardening is also a hand pruner, it is a type of strong scissors with which you can easily cut branches etc. You must keep it for regular pruning and trimming of plants. Plant pruner or scissors are used for home garden
4. Trowel / Spade
In Hindi, it can be called khurpi which can be 10 to 14 inches in length. The trowel is used for digging. This is the most basic tool of the garden. The types of khurpi / trowel/spade are different in every country.
5. Scissors
A gardening scissor is needed to cut the damaged leaves from the plant or clean it up. It is better to use scissors instead of hand to remove the old flowers after drying. A simple pair of scissors is fine for light trimming.
6. Garden Fork
A tiller is now a tool for preparing the ground. If you have a lawn or yard, this is a very useful tool for your gardening. Why is the fork used to prepare the land?
7. Spray bottle
It is very important to have a spray bottle for washing plants by hand, apart from this, its use for spraying medicine, etc. also makes the work easier. You can also repel insects that stick to the plant with occasional strong sprays. A spray bottle is very important for a sharp edge
8. Shovel
It is also called Belcha in Hindi. It is used to prepare the land. If you have a lawn or a yard, you must have a shovel.
9. Hose & Watering Can
Whether you are gardening on the ground, or on the roof or balcony, having a pipe/hose and a watering can is very important. Then, by pouring water, the sharp edge of the water dislodges the soil and falls out.
Read More:
10. Wheelbarrow
Some people who do gardening on a larger scale keep a trolley called a wheelbarrow to carry the same. A wheelbarrow makes work much easier in a large garden
Please let us know how you liked this information by commenting and pressing the like button below, so stay connected with gardendust for interesting and useful information related to these trees, plants, and gardens, thank you.
Happy Gardening…