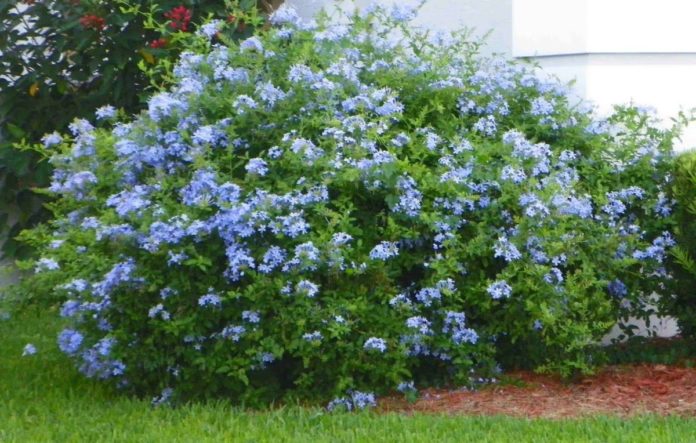 About of Plumbago / Blue Plumbago
Plumbago Plant is an evergreen shrub grows in full sunlight. It's an annual perennial plant. It's easy to maintain and can tolerate drought. The plant has lime green leaves which are green year-round.
The height of this plant is up to 6- 10 ft and can spread 8 ft. In container its height up 2-ft. Plumbago flower structure is five petals and it's simple and shower. The flower found in off white, blue light, red-pink, purple.
Features:
Type – shrub, perennial
Native – South Africa
Uses- Landscape
Common name–
Leadwort, Cape plumbago, sky flower, Blue plumbago
How to grow and care for Plumbago/ Blue Plumbago?
Plumbago can grow directly on the ground and in the container too. On the ground, plants can easily found the nutrients from the soil. If it grows in a container so many things keep in mind to grow any plant-like how much water needs to give, what kind of fertilizer required for growth, what kind of soil to plant. What temperature and light require to plant. What place to keep the plant don't worry we will help guide you on how to grow and care Plumbago. Let's begin…
Water:
Regular water required for this plant especially in the growing stage. As this is a tropical plant and loves full sunlight so it requires daily watering. In winter season plant doesn't require much water. Water it in 2-3 days gap.
Light and temperature:
As its tropical plant loves full sunlight. It also does well in shady or indirect sunlight. The plant likes hot temperatures. In the winter season, it needs much care as frost can affect the plant. In winter season prune and keep side to alive this plant. Again in summer season plants grow rapidly and refresh with impressive flowers.
Humidity:
Loves high humidity and dry air can damage the plant.
Soil:
Plumbago plant grows in acidic soil. Soil should be well drainage and moist.
Fertilizer:
Fertilizer is for the growth of the plant and makes the root stronger. Fertilizer is the best season is spring or summer season. In this season plant is on growing stage and require more feeding.
Pruning:
Regular pruning required as it grows very fast if you avoid pruning it will become so tall in a short time. To maintain its height do regular pruning. If you growing in the container you can cut in different shapes and sizes and give a shape as per your wish. It grows rapidly.
Repotting
If it grows in a container and it grows bigger it required to shift in bigger containers for proper growth. Repotting helps to maintain the growth, check the rooting part, checking the dead root and parts. Reporting for this plant is the best season is the spring season. In a year or two years repotting requires this plant. 
Propagation
Propagation of plumbago is by the stem or by seeds. By cutting stem around 3-5 inches stem from the mother plant. And plant into a pot filled with potting soil makes soil moist but soggy. Keep it in a shady area.
Within 3- 4 weeks roots will develop and new leaves will grow. Transplant into a bigger container once it By stem cut the small stem from the mother plant and put in soil keep in a shady area, 3-4 weeks it will rooting again best time in summer or spring season.
Is Plumbago Plant Toxic?
For a human, not for pet
There is an adhesive liquid found in flower, stem, and plant which is toxic for humans. It causes irritation. So keep always wear gloves when you are doing planting or repotting or caring for this plant. It's not harmful to pets so don't worry about them let them play near in your garden but keep away your child from the plant…
Also read- How to Grow and Care Blue Porter Weed | Stachytarpheta Jamaicensis