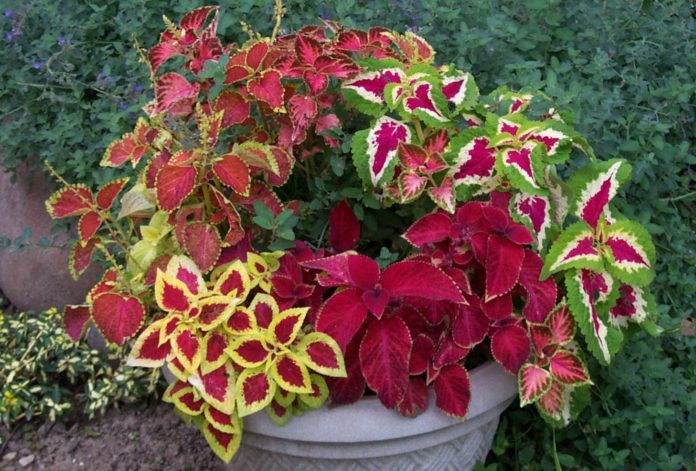 Coleus is the most beautiful colorful leaf plant. The Coleus plant is also known as landscape coleus or Plectranthus scutellarioides. This tropical annual provides interest from its attractive foliage so you don't have to worry about it going in or out of bloom.
It looks good all the time. Coleus Plant is a beautiful ornamental plant that comes in many species with varying colors of leaves with multiple colors in a single leaf that's called brightly multi-colored foliage.
Coleus Plant Varieties
Traditionally coleus plants in shade. Nowadays so many varieties come under the sun tolerant and a for shady in variety of leaves and a variety of colors. Some such as the Under the Sea series has fantastically shaped leaves.
In the shade, grow coleus with other shade-loving plants such as begonias and patience and torenia. A newer variety of coleus has been bred to thrive in full sun as well as shade. Big Red Judy is a stunner that can get almost four feet tall and offers red-purple leaves in full sun. Keystone Copper is another newer variety that has unique orange-bronze leaves. 
Now we can see how to grow the Coleus plant and how to care coleus plant?
How to grow the Coleus plant?
It can propagate from multiple cuttings. It's one of the easiest plants to multiply from cuttings. And it's highly recommended for beginner gardeners to start their hobby of growing from cuttings from coleus plants. It's really easy to root in 1 to 2 weeks.
Take small cuttings and as usual, trip the leaves towards the lower parts of the cuttings and leave the upper leaves as it is. You can use a rooting hormone to dip the base into it and grow in soil. You can get good results without the use of rooting hormone powder.
Take the cuttings from the tip of the plants. Prepare the well-draining soil in a pot or container. Use is 40 percent coco-peat, 40% garden soil and 10 % compost like vermicompost for potting mix.
It can propagate from cutting in water easily. Take a cutting from plant and put into water container, you will see root come out within 10-days. You can transplant into soil.
Tips– You can also grow in cocopeat alone and once rooting starts you can shift to a potting mix. Use a contrast pot for your coleus to give a beautiful combination.
Coleus plant Care
It's basically a shade plant, but the best leaf color is achieved with morning sun and some degree of afternoon shade. Many varieties do well in both shade and partial sunlight. Some can take quite a bit of sun as long as they are not allowed to dry out.
Avoid over-watering these plants, which can cause leaf drop and encourage root fungus and death.
To maintain plant form and encourage growth, do usually prune by pinching the tops to discourage flower formation and encourage larger leaf development and growth.
Coleus does well in pots and planters, as long as they are planted in free-draining potting soil.
Avoid windy locations because coleus can be prone to breakage, as their stem is very tender and soft.
How to Grow Coleus plant and add color to your landscape with your favorite annuals such as lantana, petunias, and geraniums is now might be easy.
You Can Also read- How to Grow Hosta? Easy Tips.