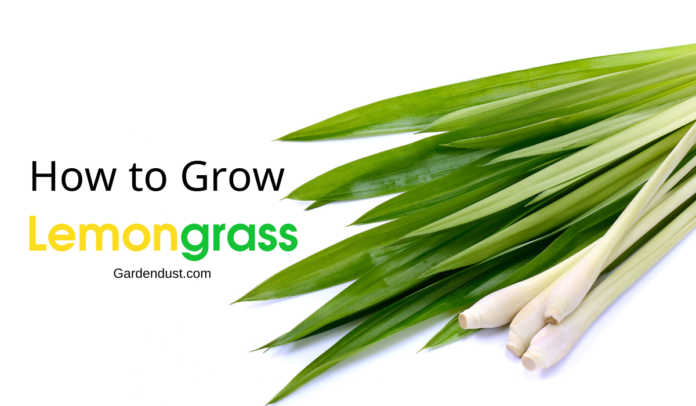 Hey Gardners!!! Today we are going to discuss another interesting plant. And that is Lemongrass. We all know about lemongrass and its health benefits but we don't know how to grow Lemongrass indoor or outdoor and how to care it. So let's begin…
Lemongrass
Lemongrass is a tropical plant and a natural repellant for mosquito. It has fragrant foliage like tangy flavor which is edible and also uses in medicine. It spikes foliage grow like a boat make it dense and beauty. For landscaping lemongrass also plant as it covers the area in a short time.
Family- Poaceae
Height- up to 8ft
Common Names of Lemongrass
Cochin grass
Cymbopogan
Silky heads
Oily heads
Malabar grass
How to Grow and Care Lemongrass?
Soil:
Soil should be well drainage. Poor drainage soil can cause root rot. Keep soil moist always. Dry conditions can affect the leaves.    
Water:
Full water required for this plant. In the winter season make it moist but do not wet.
Light and temperature:
The plant loves to grow in full sunlight but does well in a shady area. In winter season plants can freeze due to temperature.
Size and Place: 
If you are planning to plant in a container keep container bigger at least it should be 12 inches tall. The bigger container will give enough space to lemongrass to grow.
lemongrass grow well on ground but if you plant in a container then keep in full sunlight so they get proper environment as they love to grow in full sunlight or in a shady area. So before planting check the place how much sunlight falls on the floor or where the container will be placed.
Propagation:
Lemongrass grows easily and required less care. Propagation of lemongrass is easy. When rootstalk becomes at least 1 inch and have some root grown.
Devise the stalk with root and dig into potting soil and keep in a shady area. Keep watering while it established.
Harvesting:
Harvest when plant become tall at least 12 inches tall or stem become thick. The better taste gives once the bottom side stalks become thick. Harvest the tip of the leaves and store it to use. If you pull the whole stem by mistake don't worry the stem will grow.
Tips: Lemongrass leaves are very sharp-edged so be careful while harvesting or cutting the stem or pulling the stalk.
How to store lemongrass?
Harvest the lemongrass once it tall 12 inches or stalk became at least thick around ½ inches thick.
Cut the stem or pull the stalks from the ground. Clean the stalk and remove the first layer of the stalk and cut into slices and store it into freeze. Use it whenever you want to use it in cooking like in stir-fries or salad.
Cut the leaves from the tip of the grass and clean it and store it in freeze you can use these fresh leaves or frozen or dry leaves in tea or in warm water which is healthy detox tea.
Uses of Lemongrass:
Uses in ornamental plant and can cover ground easily and looks dense area.
1. Cooking
Stalk- Uses as a salad or stir-fries.
Leaves- Uses in tea or water for a tangy lemon flavor.
2. Medicine
Uses in:
Ayurvedic medicine
Soap
Scent
Essential oils
Health Benefits
1. Lemongrass is rich sources of vitamins A, B, C, and minerals. It has Antifungal, Antioxidant properties.
2. Better for skin and hair, Cold and flu, Lemongrass fights Cancer.
3. It helps to boost the immune system. It also helps in insomnia, nervous system.
4. It helps indigestion, nausea, constipation, stomach aches.
5. Prevents stomach infection, ulcers, and it is the best to detox for the body which helps to flush the toxin from the body and maintain digestive system.
Common problems
Lemon grassroots grow fast and become very dense in the pot so always check the pot as the dense root can make pot crack.
Start growing this medicinal herb in your garden as it is a natural repellant for mosquito and add in your diet to keeps yourself healthy.
Read also: How to Grow Cuphea Hyssopifolia Plant / False Heather Plant