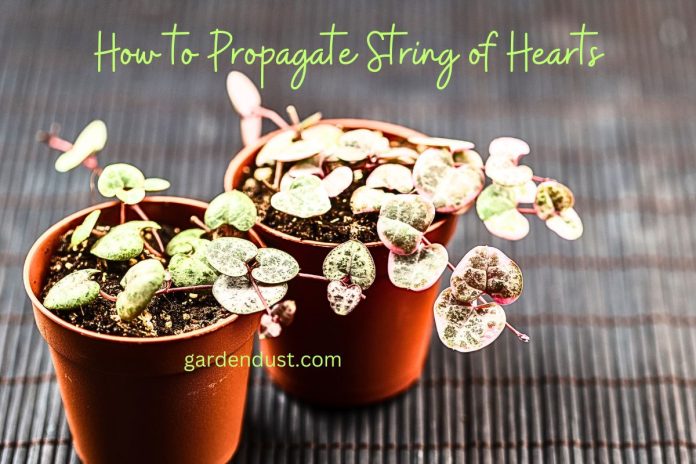 String of Hearts, scientifically known as Ceropegia woodii or commonly referred to as Rosary Vine or Sweetheart Vine, is a charming and versatile trailing plant that has captured the hearts of many plant enthusiasts. Its delicate heart-shaped leaves and trailing vines make it a popular choice for hanging baskets, shelves, or even as a ground cover. Propagating the String of Hearts can be a rewarding and enjoyable endeavor for any plant lover. In this article, we will explore How to Propagate String of Hearts: 4 Methods & Care to ensure the successful growth of these captivating plants.
Propagation Methods:
Propagation From Cutting
Select healthy vines with a good number of leaves. Each cutting should ideally be around 4-6 inches in length.
Use a clean, sharp pair of scissors or pruning shears to make a clean cut just below a node (the point where leaves attach to the stem).
Allow the cuttings to air dry for a few hours to form a callus. This helps prevent rot during the propagation process.
Once calloused, place the cuttings in a well-draining propagation mix. A mix of perlite and potting soil works well.
Water the cuttings lightly and place them in a warm, bright location with indirect sunlight. Avoid direct sunlight, as it can scorch the delicate leaves.
Mist the cuttings occasionally to maintain humidity and prevent them from drying out.
Propagation In Water:
Take cuttings as described above and place them in a container with water. Ensure that a node is submerged in the water.
Change the water every few days to prevent the growth of algae and bacteria.
After a few weeks, you should start seeing tiny roots forming at the nodes.
Once the roots are about an inch long, carefully transfer the cuttings into pots with a well-draining soil mix.
Propagation in Potting Mix:
Instead of water, you can insert the cuttings directly into a well-draining potting mix.
Bury the nodes into the soil mix, leaving the leaves above the surface.
Water the soil lightly and place the pot in a warm, bright location with indirect sunlight.
Propagation Through Layering:
Identify a healthy, mature stem with nodes along its length.
Gently wound the stem at a node where you intend to create new roots.
Apply a rooting hormone to the wounded area to encourage root development.
Secure the wounded node to the soil surface using a U-shaped stake or a small weight.
Over time, roots will form at the wounded node. Once sufficient roots develop, you can detach the rooted segment from the parent plant and pot it.
READ ALSO:- How To Grow And Care For Fairy Duster (Calliandra Eriophylla)
Care Guidelines:
Light Exposure
String of Hearts favors bright, indirect sunlight to thrive. Shield it from direct sun rays to prevent leaf scorching.
Watering Ritual
Maintain a balanced watering routine, allowing the soil's top inch to dry between watering sessions.
Prevent excessive moisture, which can lead to root rot.
Humidity Preferences
Moderate humidity levels are ideal. Regular misting aids in maintaining appropriate moisture levels.
Temperature Range
Keep the plant within a temperature span of 60°F to 80°F (15°C to 26°C).
Guard against abrupt temperature fluctuations, especially cold drafts.
Feeding Regimen
Throughout the active growth phase (spring and summer), feed the plant every 4-6 weeks using a balanced liquid fertilizer.
Reduce or cease feeding during the plant's dormant winter months.
Pruning Techniques
Trim back lengthy growth to stimulate a fuller appearance and retain an aesthetically pleasing shape.
Managing Pests and Ailments
Conduct routine inspections to detect pests like aphids, mealybugs, and spider mites.
If pests are detected, employ insecticidal soap or neem oil to mitigate the infestation.
Final Thoughts
As you delve into the world of String of Hearts propagation, the layering technique provides a unique avenue for nurturing new growth. By implementing this approach alongside the previously mentioned methods and embracing the nurturing guidelines outlined in this article, you'll forge a profound connection with these captivating plants. The cascading vines and heart-shaped leaves of the String of Hearts will undoubtedly become a remarkable centerpiece, infusing your space with natural splendor and serenity. Happy Gardening….