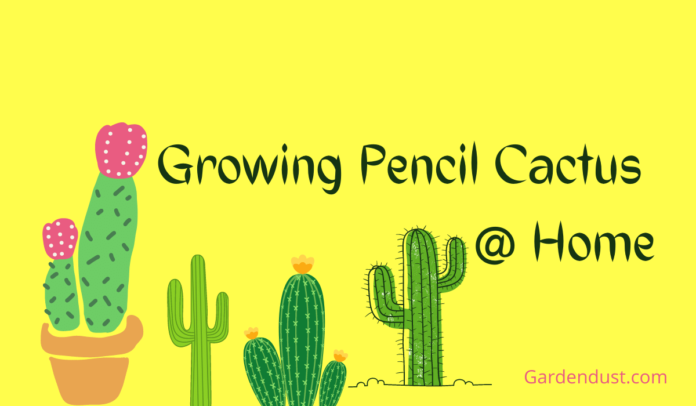 hey Gardners!!! Today we are going to see information about how to Grow and care for Pencil Cactus. Also, some tips and safety will see in this article.
Pencil Cactus
Pencil cactus is a tree having a pencil stem which contain toxic milky fluids called sap or latex. When branches or stem broke the sap or latex released. On the end of the branches, tiny flowers bloom which falls early. This is a succulent but not a cactus plant. This is a Hydrocarbon plant uses as fuel.
Family: Euphorbiaceae
Height: up to 7mt
Common name:
Milk bush
Naked lady
Indian tree spurge
Pencil tree
Euphorbia tirucalli
Avelox
How to Grow & Care for Pencil Cactus?
Growing Outdoor:
Growing cactus can enhance the beauty of your garden. Their thick pencil stem makes it different from the other plant. It grows like a tree without leaves. Their tiny flowers found on the end of the branches. Keep this plant where the wind can't affect much. This plant needs more water when growing outdoor. They require fertilizer for strong roots and do pruning to maintain the growth of the plant.
Growing Indoor:
Pencil cactus is succulent plant and can grow outdoor as well as indoor well. If you planting this indoor keep this plant near windowsill the location will give proper environment to this plant to grow properly.
As a ornamental this plant use indoor but be careful to keep away your children as this is toxic plant .In digested of latex can be skin burning or irritation.
Growing pencil cactus is easy to grow and require less care. There are some guidelines to grow pencil cactus.
Sunlight:
Plant love to grow in Full sunlight and does well in shady area too. If you planting this plant indoor keep it near windowsill it's a perfect location for this plant.
Water:
As its succulent plant it required less care and water to grow. It is drought and heat tolerant plant. Water it in twice or trice in week.
Soil:
Soil must be well drainage. Soil can be moist but don't make it wet it will cause of root rot of the plant.
Fertilizer:
Use a light fertilizer for the strong root n growing stage and then use twice in a year.
Repotting:
Warm season is the best season for the repotting this plant. Before repotting make sure the soil should be dry. Wear eye wear and gloves while repotting the plant.
Check root rot or any dead part if found remove the effected part.
After trimming and repotting the plant keep in shady area and once it established water it.
Propagation & Safety care
Propagation is easy by cutting. Cut a stem and keep in water to stop the latex and then keep it side for few days to dry and forms a callous. Dig this into potting mix and keep side to be established.
Pencil cactus is toxic as hey release toxic sap or latex which is causes of skin irritation and skin burning and it also cause of eye blindness if it get contact with skin or eye. While handling this plant always wear gloves and eye wear. After handling wash your hand.